High Plains Crime is a segment on my blog where I explore true crime and mysteries that take place in the high plains of the US.
At two o'clock in the morning, in the small town of Wahpeton, North Dakota, a student from the local technical college left his dorm. Surveillance footage showed him wearing a Tampa Bay Buccaneers sweatshirt, carrying a backpack with his cell phone turned off. That young man, Andrew Sadek, walked out into the cool night that May 1st, never to be seen alive again.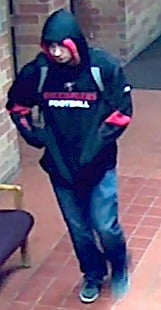 No one knew where he had gone, or who he was meeting. Maybe he fell into the river after a night of drinking? Was he overwhelmed by college and life, so he decided to start fresh somewhere else? Or worse, did he take his own life?
In 1993, Andrew Sadek was born in Valley City, North Dakota to Tammy and John Sadek. He grew up on his family's ranch, helping out on the farm. Everyone said Andrew was a good kid, a regular old country boy. He was smart, excelled at electrical work at a young age, and was described as shy and bashful. The type of kid you'd be proud to be a parent of.
At the time of his disappearance, Andrew was attending the North Dakota State College of Science studying to be an electrician. Just like any college student, he drank and occasionally partook in pot. Occasionally he would go home to help with the cattle and spend time with his family.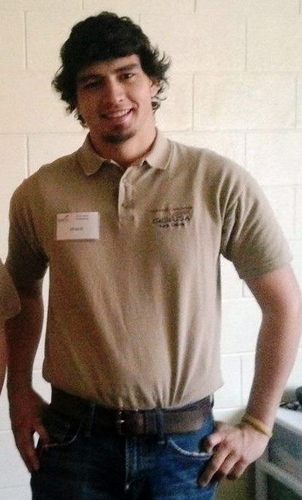 There were no outward signs of trouble in his life. According to his mom he had great grades, he attended all his classes. He was reliable, he rarely missed class and always messaged his friends back. He was preparing for graduation in a few weeks and had a new girlfriend. This wasn't like him.
The day following Andrew's last sighting on surveillance footage, his friends became increasingly worried with each missed class and missed message. They decided to talk to the college to let them know something was wrong with Andrew. They wanted to get his parent's numbers to see if they had heard from them. This kicked off the search for Andrew.
Law enforcement began a preliminary search for Andrew, looking in the Red River and around campus. His parents drove to the college and met with law enforcement. There they were met with shocking and confusing news, Andrew was facing felony charges for selling marijuana on campus. Andrew was a confidential informant who was missing.
Campus police believed he ran, absconding his duties as a CI because he hadn't been able to fulfill the buys he was required to complete by May 1st. Law enforcement didn't take the search seriously early on, failing to look for leads or evidence. They assumed he was a drug dealer on the run. Nine days after Andrew went missing, law enforcement put a warrant out for his arrest.
Everyone in his life was confused. What happened? Where were these charges coming from? He was labeled a drug dealer, but his friends were adamant that that was not the case. He was just like many other college students trying to make a buck here and there off his pot stash. Andrew was not some big time dealer.
With the release of these new details, the public's perception of Andrew Sadek went from missing college student to drug dealer on the run. No one wanted to help look for someone who is on the run from the law. Quickly, public interest waned and shifted.
On June 27th, 2014, almost two months after he had disappeared, his body was found in the Red River during a water rescue training exercise. Reality hit his friends and family, that Andrew wasn't coming home alive. Their world would be forever changed.
The sheriff's office called the family a while later to tell the family that they believed it to be a suicide. Andrew had been shot in the head and had a backpack of rocks tied to his back. At that point, they were looking for the gun and waiting on the coroner's findings. Andrew's parents were asked if they were missing any guns, in particular a .22 caliber, the type of gun that killed Andrew. They were in fact missing a .22 caliber gun, but the family was adamant that Andrew showed no signs of suicidal tendencies and that if he took the gun, it wasn't to kill himself.
Things didn't seem right, his parents discovered that the clothes that he disappeared in were not the clothes he was found in nor were they even his clothes. It couldn't be determined if he had shot himself or not and a weapon was not found. His wallet was missing. There was no note or indication from him regarding suicide or anything. His family revealed that when they brought his car home from campus, they discovered that the carpeting inside the vehicle was soaked and the spare tire well in the trunk had several inches of water in it. These questions led the family to start their own fight. They hired lawyers and contacted the media. Andrew Sadek's family and friends believed he had been murdered.
His parents wanted the FBI involved, they wanted the whole case re-examined. Local law enforcement were not updating the family and they were avoiding questions from the public about what was actually going on. The family later found out there wasn't sharing of information between law enforcement agencies either. The school Andrew was attending also began shutting the public and the family out.
Eventually, the media got their hands on the interrogation tape of Andrew Sadek. In 2013, the year before his disappearance, he had sold marijuana to a confidential informant on two different occasions. Because of this, later that year law enforcement performed a consented search on his dorm room. They found a grinder with what was believed to be marijuana residue. Andrew admitted this, but was not arrested or charged at the time.
The next day though, he was brought in by a Deputy Jason Weber and informed of the felony charges he could be facing. These charges could mean up to 40 years in prison and four thousand dollars in fines. Unless, they told him, he became a confidential informant for them. He would need to make buys and uncover other drug dealers in the area.
The public began to realize that law enforcement was hiding something. The tape shows a deputy strong-arming this quiet, soft-spoken 20 year old into becoming a CI over a small amount of marijuana. He was lied to and told he would face years in prison, thousands of dollars in fines. Andrew's life would be over unless he did what they told him to do and he could tell absolutely no one what was going on.
Under the direction of Deputy Weber, Andrew made three buys between November 2013 and March 2014. But Deputy Weber wanted one more. He wanted to catch a big fish and he was pushing Andrew to go further and dig deeper. Andrew's contact with Deputy Weber stopped mid-April. Then Andrew disappeared.
To this day, the public and Andrew's friends and family still do not know what happened to him. There are theories out there though. A few still believe it was a suicide, that Andrew felt so much pressure from being an informant that he decided to take his own life rather than face the incredibly harsh consequences looming over him. Some on the internet believe he was killed by the Smiley Face Killer(s). That he was one of many young men across the country who were killed by a single person or group of people who kill and then leave their mark with spray painted smiley face graffiti. Many though believe Andrew was killed in what could probably be described as a drug deal gone bad. Maybe he had been discovered as an informant and was thus killed. Maybe he was pursuing people and drugs that were beyond his scope as a 20 year old college student. Hopefully one day there are answers.
The Sadek family still seeks justice for what happened to their son and have worked to help prevent the manipulation and corruption that Andrew endured, from happening to others.
In 2017, the Sadek family filed a lawsuit against Deputy Jason Weber and local law enforcement alleging fraud, negligence and deceit which led to Andrew's death. The depositions that followed revealed corruption and mishandling of the CI program that the county was running. The family's legal action against Jason Weber and the county Andrew disappeared in were dismissed. The Sadeks filed an appeal, but the ruling was upheld by the North Dakota Supreme Court. Jason Weber received a promotion and still works with the confidential informant program in the Wahpeton area.
Also in 2017, Andrew's Law was passed in North Dakota. This law would put in place protections for confidential informants including informing CI's that they have the right to speak to an attorney. This law also means that if a CI dies, the state attorney general must investigate.
For more information on this case, I encourage you to check out these resources:
The Dakota Entrapment Tapes – Documentary